SUMMER RIDING CAMPS
*CLICK HERE TO CHECK OUT 2013 DAY CAMPS
FOR BEGINNERS-ADVANCED RIDERS
AND PONY CAMP FOR 5 - 8 YEAR OLDS*
If you are interested in signing up for CAMPS, please email info@amberhillfarm.com or CALL (540) 850-6225 or (540) 661-7202
~~~~~~~~~~~~~~~~~~~~~~~~~~~~~~~~~~~~~~~~~~~~~~~~~~~

RESIDENT CAMP is NOT CURRENTLY AVAILABLE
We are hoping to return to holding Resident Camps in 2014
Be sure to check back!!
Information below is NOT CURRENT
SUMMER Resident Equestrian CAMP
Amber Hill Farm's Resident Equestrian Camp program is designed for those who desire a more
intensive riding experience.
Our aim is to help each rider achieve sound riding skills, learn proper care, and have the personal enjoyment of working with horses on a daily basis in a fun camp environment.
Sessions are limited to 12 Girls to ensure more personal instruction.Breitling Replica
Residential Girls Equestrian Camp is offered in one-week sessions for either Hunter or Eventing, for the advanced beginner to the advanced intermediate rider.
HUNTER SESSIONS include quality instruction in Equitation, Jumping, Hunter Courses and Showing.
Daily unmounted lessons and clinics will teach topics such as conformation, stable management, show grooming, etc.
Camp includes entry fees in a Amber Hill Hunter Show, a VHSA/BHSA Associate show, on the final day of camp.
SPECIAL FOR 2009: "College-Bound" Camp
Designed for 8th - 12th Graders interested in learning more about Equestrian College Programs, Riding in College, IHSA & NCAA, and learning more about showing Equitation & team riding
2009 HUNTER CAMP DATES:
SESSION I: JULY 5 - 12 - "College-Bound" (8-12th grade only)
SESSION II: JULY 19 - 26
SESSION III: AUGUST 9 - 16
EVENTING SESSIONS include individualized instruction in Dressage, Cross-Country jumping and Stadium Jumping.
Daily unmounted lessons and clinics will cover such topics as learning dressage tests, course walking, care of the horse and the rules of Eventing.

The final day of camp will include entry in either a camp competition or an open Amber Hill Horse Trial.
EVENTING CAMP
Due to construction & upgrading of course, no Event camp is currently scheduled
ALL SESSIONS include mounted lessons two times daily in addition to the unmounted classes.

Campers will have full responsibility for their own or assigned horse, including feeding, stall cleaning and care, which will be supervised by one of our staff.

You may bring your own horse at no additional charge, but we do ask that the horses are in good condition, as they will be ridden 4 – 5 hours a day, and that they are at least started over fences.

We are very happy to help work with both you and your horse, or we have a nice selection of horses and ponies of various levels to choose from.
While campers may be just starting to jump, they should be fairly comfortable at trot and canter.
Our Camp is completely HORSE-FOCUSED, though we usually include at least one swim and picnic at a nearby lake, and enough free time for campers to play, read or just relax.
Campers stay in their own bunkhouse (with air-conditioning), and your horses are barn-kept for the week.

audemars piguet replica watches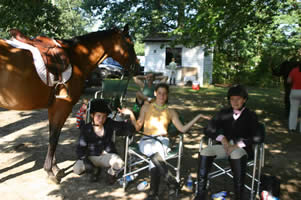 CAMP FEE PER SESSION:

$ If enrolled Before May 1st
$ Enrolled After May 1st
*There is an additional $ fee for "College-Bound" session
FEE INCLUDES:
Family style meals
Lodging
Lessons
Lectures
Theory Handouts
Demonstrations
Field Trips
Entry Fees for Amber Show or Horse Trials
Stall or Use of an Amber Hill Horse
Camp T-shirt
SESSIONS ARE LIMITED TO 12 GIRLS ON A FIRST-COME BASIS*
*Phone reservations are accepted, but must receive deposit within 10 days to hold reservation
Be sure to book EARLY - Camps fill quickly!

Home l Programs l Lessons/Boarding l Hunter Shows l Horse Trials | Summer Camp l AIRC Team | 4H l Directions